STENTZ has always strongly been involved
in environment protection
STENTZ commitment for the planet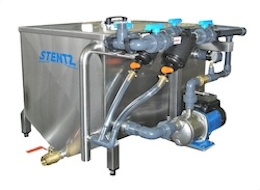 As a leading manufacturer of cleaning & drying machines, STENTZ has always strongly been involved in environment protection.
CIP recycling tanks (Cleaning In Place), acoustic isolation, works on recycling of the parts and low energy-consuming machines are some examples of our strong involvement to reduce the impact of our equipments on the environment.
We feel that our leading position on the market gives us the responsibility to keep on enhancing our ecological performance in partnership with our customers throughout the world.
STENTZ keeps on delevoping new solutions for bottles cleaning & drying.
Our machines are now equipped with a new generation of blowers with IE2 engine which confer them a better efficiency.
In equivalent pressure the electric consumption is reduced from 15 to 20 %